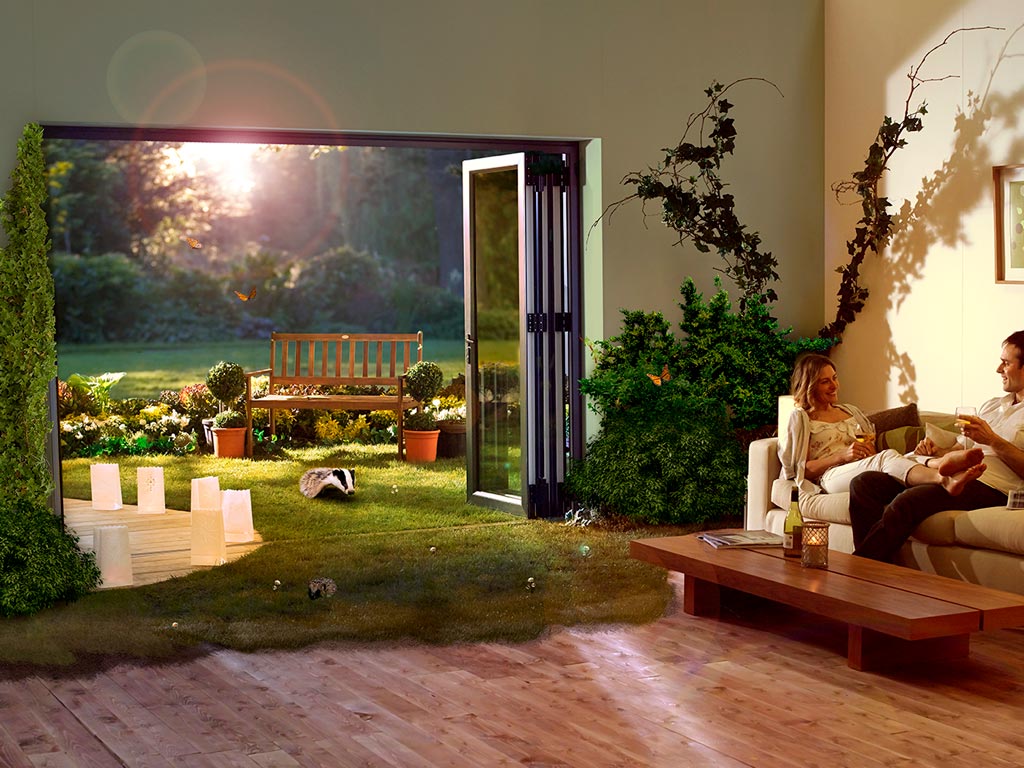 Sliders UK added the Veka Imagine to its bi-folding door range last month, part of a strategy to become 'the go to' single source door supplier.
Sliders UK has expanded its product offer significantly in the first half of this year. Adding the Premiline Pro inline Sliding Door from Kömmerling, with its PAS24:2012 Part Q and Part M, accredited patented interlock shootbolt system in January, it has now brought a second PVC-U bifold system – the Imagine from Veka – on board.
This is alongside aluminium offers from ALUK, the Eurocell Ultimate Aspect bi-folding door, plus longstanding offers from Duraflex and its recently relaunched composite door range.
"We believe that there are lots of benefits to single source supply of doors", says Steve Mines, Sales Director, Sliders UK. He continues: "That extends to installers but also other fabricators who might not be doing the volume on sliding and bi-folding doors to justify a dedicated line.
"It's about offering choice – working with the systems and products that maximize market opportunities for installers and which are also good to fit. The Imagine bi-folding door sits very much within this strategy."
The fully suited Veka Imagine system (the Ultimate Imagine bi-folding door in its Sliders UK form) is available in 19 different panel configurations to a maximum of seven sashes, closing apertures of up to 6000mm wide and up to 2400mm height. The maximum sash width is 1000mm, while doors can be set to open inward or outward.
Featuring custom designed hardware from ERA, the PAS24:2012 accredited Veka Imagine from Sliders UK also delivers top U-values of up to 0.94W/m2k and an indicative DSER rating of A+13.
"These are important features in a fairly competitive market place", continues Mines, "you have to be able to deliver on security and energy efficiency and this door does both and more.
"But for me, the other key benefit it delivers are the aesthetics. It's a very good looking system and that's something, which puts distance between it and the PVC-U bi-folds that came before it."
This, in common with the wider gargantuan leap in PVC-U aesthetics, is in part down to finish – the system comes in a choice of 18 foiled options. But in its availability in a choice of bevelled or sculptured sashes and beads, the 70mm Ultimate Imagine also delivers significant flexibility to match to multiple systems and properties.
Hinges are also fully adjustable and again come in a choice of white or black, while adjustable locks shootbolts and bi-directional hook locks, also provide additional security and compression.
Ultimate Imagine:
Slimline 70mm energy efficient PVC-U system
19 different panel configurations to a maximum of seven sashes
Can span up to 6000mm wide and up to 2400mm height. The maximum sash width is 1000mm
Available in 18 foiled finishes
Choice of beveled or sculptured sashes and beads.
Doors can be set to open inward or outward
Custom designed hardware from ERA
PAS24:2012 accredited with SBD option
U-values as low as 0.94W/m2k and an indicative DSER rating of A+13 *indicative testing by Veka
This focus on performance and aesthetics is also evident in the Ultimate Aspect bi-fold door. Manufactured in a two to seven panel configuration and with multi-point locking, anti-jemmy pins, SBD and PAS24, low threshold options its USP is that 90 per cent of the glazed screen can be opened – that's on a PVC-U bi-fold door.
Mines argues that this is reflective of a wider 'evolution'. He says: "If you look at what's happening in the market there's been a real evolution of PVC-U bi-fold offers and the Ultimate Aspect and Ultimate Imagine epitomize that."
This is born out in industry research. According to D&G Consulting, the window industry may have so far underestimated the market potential of PVC-U as a material for bi-fold manufacture.
The authors of the UK Annual PVC Window Door & Conservatory Industry Market Report, predict that bi-fold door sales will top 30,000 per year by the end of 2016 and 40,000 per year by 2018 – with PVC-U bifolds accounting for 39 per cent of total volume.
Mines continues: "We obviously manufacture aluminium and PVC-U systems and both have a place in the market in part defined by preference and in part by affordability.
"Certainly new generation PVC-U bi-folding and for that matter inline sliding doors, increase the competitiveness of PVC-U systems with far better performance and improved sightlines."
He concludes: 'What we offer is an opportunity for installers and fabricators to hedge their bets.  As installers, they can fulfil orders regardless of end-user preference. As fabricators buying-in, they get similar flexibility without disrupting core activity or tying up or risking capital in dedicated lines.
'But what is unquestionably exciting is the new generation of products now coming on line and the opportunities that they are creating, particularly in the second time replacement market."
For more information contact sales@sliders-uk.com