With a rapidly expanding aluminium offer, Sliders UK has strategically aligned itself to growth markets.
Aluminium has always been a key element of Sliders UK's product offer. It's significance, however, has been magnified in the last 24-months with a series of new product launches.  And with more to come – it's influence on the door specialists' installer offering, is set to increase still further this year.
"Aluminium is perhaps the industry's single biggest growth area", says Steve Mines, Sales Director, Sliders UK. He continues: "We've been manufacturing the ALUK bi-fold for approaching a decade and introduced a second aluminium bi-fold, the Ultimate Evolution in 2016.
"Demand for those products has simply snowballed in the last 24-months. That drove the expansion of our aluminium offer last year and continues to inform our strategy for this year, with the further expansion of our range to offer a complete collection of aluminium products."
According to the The Window, Door and Conservatory Markets in Housing in Great Britain, by Palmer, aluminium saw 24% growth in the last year, including 26% growth in volume terms and installed value by 28% in sales of aluminium windows.
Going forward forecasts suggest it will remain one of the key drivers of growth for the UK window and door industry. It's dominance in the bi-fold door market – accounting for 59% of market share in 2016.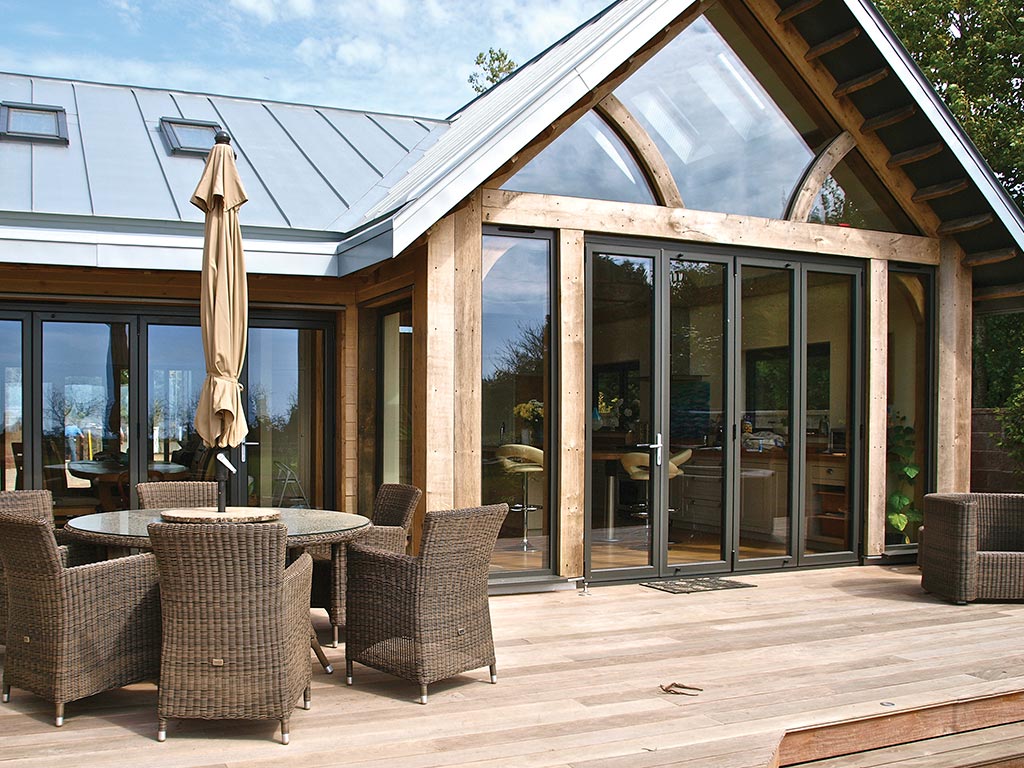 ---
"We've been manufacturing the ALUK bi-fold for approaching a decade and introduced a second aluminium bi-fold, the Ultimate Evolution in 2016."
---
Two aluminium bi-fold door options
The growth seen in aluminium is something that has not been lost on Sliders UK's newly formed senior management team. Having successfully completed an MBO in April last year (notably, this was done without debt funding), the company has brought ever increasing focus to its aluminum offer.
This includes two aluminium bi-fold doors. It's premium offer is the ALUK bi-fold which is available in two to seven panel configurations, is Part Q and PAS24 accredited, and features concealed running gear, heavy-duty rollers and stainless steel tracks and multiple opening options.
Maximum height and width is 2500mm X 7000mm, while maximum individual panel width is 1200m and a maximum weight 100kg, giving it a high degree of structural flexibility. U-values are as low as 1.4w/m2K, while it's also severe weather rated BS6375 -1:2009, Water 600PA. Air 600PA and Wind pressure of 1800 PA.
It's available in white gloss, anthracite grey matt, and semi-gloss graphite black as standard colours, while all hardware and frames are guaranteed for 10 years.
The Ultimate Evolution, its second bi-fold option, draws on innovation in hardware, combining  ultra-smooth bottom running system with impressively slim sightlines – even compared to other aluminium systems.
With a maximum sash height and width of 3000mm x 1200mm, colour-matched handles and magnetic door holders, a low threshold option and 30mm polyamide thermal break for increased thermal values, it is also fully tested to PAS 2, Part Q approved and BS6375 Part 1 Weather Tested.
It also features a highly innovative fully adjustable jamb option which dramatically simplifies door squaring and setting and increases tolerances, which is perhaps the biggest single innovation. An easy-adjustment system delivering up to 8mm of tolerance, making if far simpler to align the door even where apertures are out of square.
Partnership with ALUK
Although offering a choice from two bi-fold systems, Sliders UK's partnership with aluminium systems leader, ALUK, has been key. As highlighted, it's aluminium bi-fold is the mainstay of its offer. This, however, now also includes a growing inventory of ALUK products.
"We've been working in partnership with ALUK from the very beginning. They were very supportive, as were all of our suppliers during the MBO process, and have also brought some very exciting new products onto the market, which we're confident will generate new areas of opportunity for our trade customers", continues Mines.
Chief among these is its new aluminium window, added to Sliders UK's offer at the end of last year. Manufactured in ALUK's proven 70mm Optio system, the new Ultimate Aluminium Window from Sliders UK is defined by clean and flexible sightlines, making it suitable for traditional and contemporary applications.
It accommodates double and triple-glazed insulated units of 24mm to 40mm, employing a unique polyamide thermal break design to achieve u-values as low as 1.2W/m2K. It's also fully tested to PAS24 and is part Q compliant.
Available in white or anthracite grey as standard, plus dual colour options and any RAL colour as special order, the Ultimate Aluminium Window comes in a range of fully anodised finishes, also carrying a 10-year guarantee.
"We have developed a very transparent proposition", continues Mines. "The Ultimate Aluminium Window is being sold off list price, so there aren't the fluctuations that you get from some suppliers depending on how busy they are.
"The price is the price, less your standard discount. It makes things cleaner and more straightforward for installers."
In the same vein Sliders UK has also added ALUK's new Veranda to its range. The contemporary modular system has been designed to make installation easy, while generating high margin opportunities. This includes install in less than a day, LED lighting and integrated drainage and the capability to span up to 6m using just two posts.
"It's another high-value proposition", continues Mines. "You can fit it in less than a day, it transforms outside space and everyone we have shown it to has instantly seen the opportunity.
"It's a very exciting product which has huge retail potential", he adds.
Sliders UK has also added two new aluminium inline sliding door options. Manufactured in ALUK's Optio system, this includes a standard and slimmer sightline 45mm option. Available in multiple sliding configurations, dual colour options and accepting weights of up to 400kg (with double bogey), it achieves U-values as low as 1.5w/m2K and is Part Q approved in its standard configuration.
"It's clear that aluminium is enjoying a renaissance. We can support our customers in accessing that growth through the supply of a choice of aluminium bi-folds, French and sliding doors and now an aluminium window and veranda", says Mines.
He concludes: "It's there for them on a single order and a single delivery, and because we're not into mass window supply, we can offer them a very reliable and flexible service – just as importantly – product differentiation."
The Sliders UK difference
Manufacturing excellence
Everything we ship goes through a rigorous quality control and dispatch process.
Watch now
Aluminium windows are seeing significant commercial growth but are also making inroads into the home improvement sector.
Find out more
Find out more